Welcome to my "Impressions of Nature."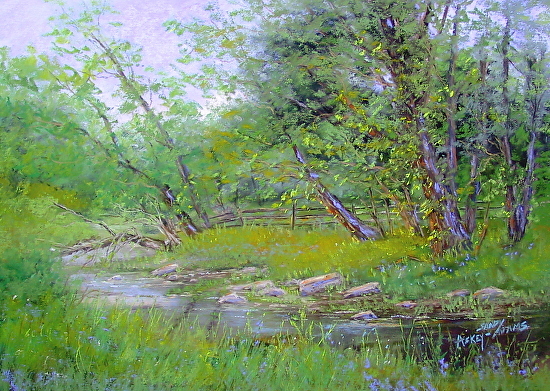 "The Meadow" is the title of this pastel painting. Thank you for appreciating my work. I hope it makes you smile. Next Outdoor Art Festival is the "New Hope Arts & Crafts Festival, PA. Saturday, September 27th and Sunday, September 28th, 2014. MY SPACE Number is O-3. Location: Solebury High school Lot on West Bridge Street, New Hope, PA. www.newhopechamber.com
A Pastel Demonstration: Also, on September 30th, a Tuesday evening, I will be doing a Pastel Demonstration for the New Hope Art League at St. Martin of Tours Church in the School Cafeteria. 1 Riverside Circle, off rt. 179 by Staples., New Hope, PA. Meeting begins at 7:00 and demonstration begins around 7:15 - 7:30. You are invited to attend.
Another two shows: "Past, Present and Future" Art Show & Sale. October 4th & 5th at Rolling Green Farm in New Hope, PA. (See my event page.)
Daylesford Abbey Art Show begins October 3rd (reception) through October 12th. 220 South Valley Road, Paoli, Pa.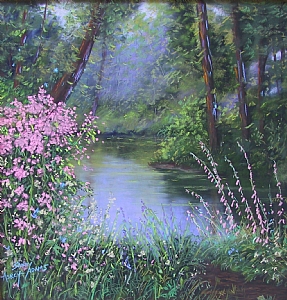 "Woodland Garden" is the title of this pastel painting.
Thank you so much for visiting my web site and again for appreciating my work. To inquire about paintings on this web site, you're invited to call or email me when interested in any of the paintings, if you have any questions or wish to visit my home studio/gallery. Please do not hesitate to call or email. ~~ 215.322.4481 Gentlehues@aol.com or Sandy@SandyAskeyAdams.com
And, please visit my BLOG on this web site. www.sandyaskeyadams.com/blog Thankyou.
If you are looking for paintings that speak of peace and serenity, paintings that calm the spirit and take you away to a quiet place of solitude, I can only hope that you, the viewer of my work 'feel' a connection with nature and experience the tranquility that I wish to interpret --- even to almost 'hear' the sounds of nature.
See my gallery page for a listing of art galleries representing my work.