Impressions of Nature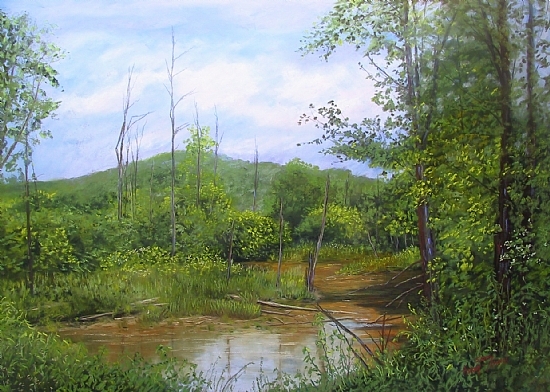 Title of above pastel painting: "In the Stillness."
~~2014 CENTRAL BUCKS BYERS 29th ART EXHIBITION. APRIL 10th through April 20th At Travis Art Gallery.
The above pastel painting was accepted into the "Central Bucks Byers 28th Art Exhibition." It is truly an honor to have had two of my pastel works accepted. The other one accepted is "Winter Woods," which will also be on exhibit. Artists will be available to talk with, and I look forward to meeting with you.
Works were selected by three prominent figures from the art world, Nelson Shanks, George Anthonisen and Lisa Tremper Hanover. They reviewed 232 works with a total of 95 works being selected.
You are invited to attend the opening night reception on April 10th from 5 to 7 pm at the Travis Art Gallery, 6089 Lower York Road (202), New Hope, PA.
Show continues through April 20th. See web site for Gallery hours. http://www.travisgallery.com
~~~~~~~~~~~~~~~~~~~~~~~~~~~~~~~~~~~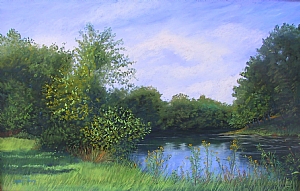 Pastel Painting "Summertime in Pennsylvania."
5th Annual Traditional Artists Show........ Benefit Bucks County SPCA
Opening reception, Friday, May 9, 5 to 9 pm
Show Hours, Saturday and Sunday ~ May 10~11, From 11 am to 5 pm
Rolling Green Farm, Rt. 202 and Aquetong Road in Solebury, PA.
Eleven award winning Artists exhibiting their art works. ~~ Jas Szygiel, Jerry Cable, Don Kaiser, Jim Lukens, Betty Minnucci, Bryan Oliver, Materese Roche, Ray Overpeck, Fred Place, Jeff Charlesworth and Sandy Askey-Adams. Varied mediums, styles and subject matter.
Animals from the SPCA will be at the show available for adoption.
See Facebook page http://www.facebook.com/traditionalartistshowbuckscounty.
Thank you so much for visiting my site.
You may call or email me when interested in any of my paintings for purchasing, if you have any questions or to visit my home studio/gallery. Please do not hesitate to call or email. ~~ 215.322.4481 Gentlehues@aol.com or Sandy@SandyAskeyAdams.com
And, please visit my BLOG.
If you are looking for paintings that speak of peace and serenity, paintings that calm the spirit and take you away to a quiet place of solitude, I can only hope that you, the viewer of my work 'feel' a connection with nature and experience the tranquility that I wish to interpret --- even to almost 'hear' the sounds of nature.
See my gallery page for a listing of art galleries representing my work. Such as www.Buckscountygalleryart.com and others.