Welcome to my "Impressions of Nature."
"Lakeside Light - Lake Nockamixon" title of above pastel painting. "THE 48th ANNUAL LITITZ OUTDOOR ART SHOW and SALE "----- on SATURDAY, JULY 26th.
A ONE DAY ART SHOW...Rain or shine. LOCATION is Lititz Springs Park. Route 501 between the Square and RR Tracks. TIME: 9 am till 5pm.
Sponsored by The Village Art Association.
***********************************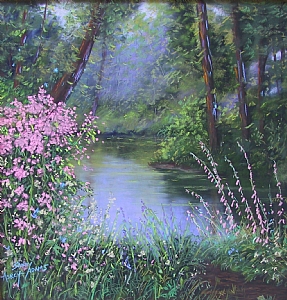 "Woodland Garden" is the title of this pastel painting.
Thank you so much for visiting my site.
You may call or email me when interested in any of my paintings for purchasing, if you have any questions or to visit my home studio/gallery. Please do not hesitate to call or email. ~~ 215.322.4481 Gentlehues@aol.com or Sandy@SandyAskeyAdams.com
And, please visit my BLOG.
If you are looking for paintings that speak of peace and serenity, paintings that calm the spirit and take you away to a quiet place of solitude, I can only hope that you, the viewer of my work 'feel' a connection with nature and experience the tranquility that I wish to interpret --- even to almost 'hear' the sounds of nature.
See my gallery page for a listing of art galleries representing my work.