Welcome to my "Impressions of Nature."

Title of above painting is "Summertime Along the Brandywine River." Size is 6.5 x 18.
Hockessin Fall Classic Art Show and Sale is Halloween weekend -- OCTOBER 31, thru November 2, 2014. It will be a Wickedly Goulish and Frightfully Fun Art Show and Sale.
Location is Hockessin Memorial Hall Fire Company in Delaware.
Reception - Friday, October 31 beginning at 5 PM.
Artists will be dressed in Halloween Costumes At Reception Friday Evening ONLY! Regular dress on Saturday and Sunday.
By broom or by car, you are invited to come see their art and their costumes.
See my event/art show schedule page for further times.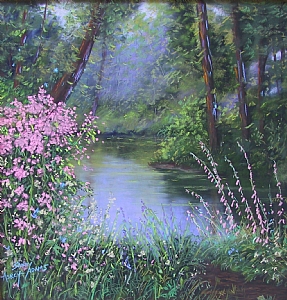 "Woodland Garden" is the title of this pastel painting. (Sold)
Thank you so much for visiting my web site and again for appreciating my work. To inquire about paintings on this web site, you're invited to call or email me when interested in any of the paintings, if you have any questions or wish to visit my home studio/gallery. Please do not hesitate to call or email. ~~ 215.322.4481 Gentlehues@aol.com or Sandy@SandyAskeyAdams.com
And, please visit my BLOG on this web site. www.sandyaskeyadams.com/blog Thankyou.
If you are looking for paintings that speak of peace and serenity, paintings that calm the spirit and take you away to a quiet place of solitude, I can only hope that you, the viewer of my work 'feel' a connection with nature and experience the tranquility that I wish to interpret --- even to almost 'hear' the sounds of nature.
See my gallery page for a listing of art galleries representing my work.