« A Painting Needs Nutrients | Main | Celebrate the Progress, Get Rid of the Guilt »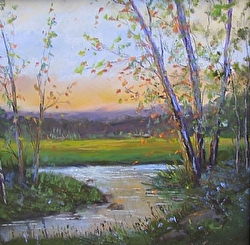 Twilight Glowing
"What I dream of is an art of balance, of purity and serenity devoid of troubling or depressing subject matter." by Henri Matisse
"Lord, grant that I may always desire more than I can acccomplish." by Michelangelo

Today, while cleaning out some stuff in drawers, I came across the following inspirational writing by Norman Vincent Peale, one of America's greatest motivators, and I wanted to share it with you. Hopefullly, that is o.k. to do. I thought it might be inspirational of course, and offer encouragement to those who are having a difficult time getting themselves motivated for painting or just those who need a bit of a nudge with life in general. But, I am writing it here thinking of the art journey many artists travel, in an attempt to relate it to what our passion is in life.
HOWEVER, needless to say, this is for everyone, no matter who they are or what they do in life.
No matter how many times we hear or read about thinking and being positive, it can never be too much or be underestimated or treated lightly. We need that constant reminder because it is not always easy to do so when handling the ups and downs of life, or in being an artist. (And not to treat lightly the strength of faith, prayer, and meditation.)
1) "If you want to get somewhere, you have to know where you want to go and how to get there. Then never, never, never give up."
We can certainly see that in the art field. We need to have a passion and create a vision for ourself, a plan of what to do and how to get to that place we want to be with our art. AND, the times we fail, we don't get into a show, the painting doesn't turn out, we don't win an award, our work is over-looked, we must keep going and never give up.
Look for and take advantage of opportunities and possibilities as often as you can. Discovering life's opportunities helps eliminate stress.
2) "The secret of life isn't in what happens to you, but what you do with what happens to you."
O,.K. So we don't make it into an art show, or we get terrible critcism on a painting...what are we going to do? Surely not pout. Plus, as we learn, we can use that knowledge to reach out to others. Others can learn from our mistakes if we only share, and we from theirs. It can be a mutual sharing.
IF something goes wrong, try to look at the overall big picture to see the potential for a positive outcome. Look to the sky and cloud with that silver lining.
3) "Help other people to cope with their problems and your own will be easier to cope with."
If we help other artists and share, we will find that we learn to overcome the problem we are having with our work. Just by talking or trying to help someone else through a painting they dislike. If you open yourself to love and laughter and connect with others , you will not only give yourself a boost, but also your friends. Feeling needed can have a positive effect.
4) "Never use the word impossible seriously again. Toss it into the verbal wastebucket."
Hmmmmm, I know I have said it...."This painting is impossible. I can't seen to get this working." As soon as we start thinking that way, we do make it almost impossible because we are thinking negative. Believe in yourself. Believe in your painting. A little effort every day can make a difference. The power is in concentrating on optimistic thinking as a way of living.
5) "Self-trust is the first secret of success. So believe in and trust yourself."
Gosh, I already said that up above. Trust that we can do that painting through study and knowledge. It is the road to success and confidence that will help you believe in and trust yourself.
6) "Stand up to your obstacles and do something about them. You will find that they haven't half the strength you think they have."
I think every person, artist or not, runs into obstacles on whichever path they are traveling. I think we each need to know that we are not alone. Knowing that can sometimes help. And when we realize that others have faced those obstacles through their inner strength,,,well, that is a sign that we too can do it. So, celebrate your strength and how you are able to handle those obstacles. There are many other paths without obstacles along your journey. AND, who says those obstacles have to be a negative. They may seem to be at first, but some just help us learn more and be stronger in the outcome. Then we just might consider that obstacle a blessing. You never know.
7) "Joy increases as you give it, and diminishes as you try to keep it to yourself. In giving it, you will accumulate a deposit of joy greater than you ever believed possible."
The first thing that comes to my mind, is the Joy of our Passion, our painting....and it increases the more we use our talent to share with others. Why would we want to do a lot of paintings over the years and then hide them so no one sees them? If you are doing what you were meant to do, then by putting them out there for others to see, you will learn more by sharing your joy and you will feel so much more joy.
8) "How you think about a problem is more important than the problem itself -- so always think positively."
If you keep telling yourself that there is no way you can make a particular painting work, and if you tackle the problem either by starting all over again or fixing the problem in the painting, then that is a positive action, rather than over thinking the problem to the point of giving up in a negative way.
9) "Go at life with abandon; give it all you've got. And life will give all it has to you."
Got this one.....go at that painting with abandon. You have given it all you have through study and planning it all out in the beginning phases, so now you can allow yourself to feel free, to go at the painting with abandon, forget the details. It will take on that life of its own, and surprise you with a wonderful end result.
Hope this has been motivating.
Artfully yours,
Sandy
Comments
3 Responses to Thinking Positive Can Never Be Underestimated.
Sandy Askey-Adams, PSA
via sandyaskeyadams.com35 months ago
Thank you Jo. But, so do you. :)
Some of this is a way of trying to make myself think and feel more positive too.. . and appreciate. When I was growing up, people (strangers) use to tell me to Smile. Now I know what they meant. When they told me to smile, they should have taken a few minutes and explain it to me. :)
Life is so full of its ups and downs that at times it can be overwhelming and we forget to stop and just take a breath.

Have a grat 4 th of July Jo....and thank you for reading my blog. I usually feel like no one reads it, but it is also therapy for me in a way.